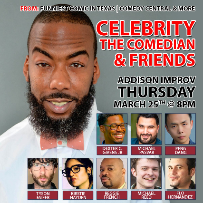 Celebrity and friends
You missed it! This show has passed.
CELEBRITY 's Bio
Celebrity" is one of the hottest & most talked about comedians on the rise! He's a native of Dallas, TX with a crazy spunky personality which is basically him just being himself! He is loaded with witty jokes, songs, and stories about any and everything that give him an explosive stage presence. He may transition into a soulful song which later crosses into a hilarious joke! True natural talent at its best will have you gasping for air! His idea/mantra is "I'm not the celebrity of the show…just the Celebrity that you know!" He's also known for his memorable catch phrase "Raah!" If you get the chance to laugh at Celebrity… you will laugh for real! By all means...let's enjoy that moment together!
Learn More