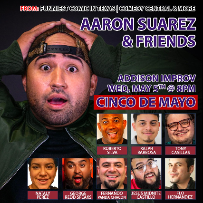 Cinco De Mayo with Aaron Suarez & Friends
You missed it! This show has passed.
Aaron Suarez's Bio
Aaron Suarez is a comedian from Laredo, Texas, currently living in Austin when he's not on the road. Aaron has opened for Godfrey, Willie Barcena, and Steve Treviño, and was also a 2019 semifinalist for the Funniest Comic in Texas. A nationally touring headliner, Aaron brings room-shaking, bladder-quaking laughter to audiences all over the country with his witty commentary on life, love (or lack thereof), and the world around him. He regularly shares comedy sketches with his followers online, and has been featured on Showtime's Desus and Mero.
Learn More