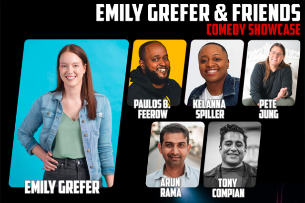 Emily Grefer and Friends
You missed it! This show has passed.
Emily Grefer's Bio
Emily Grefer is a 30 year old comedian and Semi finalist for Funniest Comic in Texas who has been keeping crowds in the south laughing for the last 3 years. Her sharp observational humor about her chaotic family life, dating conundrums, and affinity for true crime has had her working alongside Harland Williams, Annie Lederman, Chris Kattan & Kevin Farley.
Learn More