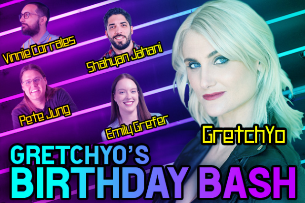 GretchYo's Birthday Bash
You missed it! This show has passed.
GretchYo's Bio
Step into the world of GretchYo; a wannabe high caliber person lacking the moral compass to actually be one. This Dallas based comedian is living life in her 30s making terrible decisions but doing the best she can. Actively hiding her standup from her dad, her comedy has called "wildly inappropriate" so please keep that in mind if you are easily offended or a child. GretchYo has performs and produces comedy shows all over the country. You can watch her self titled web series on her GretchYo YouTube channel. @GretchYo on all social media.
Learn More