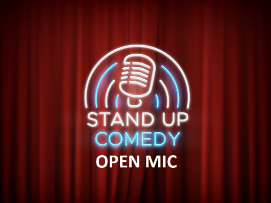 Sunday Funday Showcase! Happy Hour
You missed it! This show has passed.
Show Info
Sunday Funday! Comedy open mic!
4:00pm - 5:30pm

This is a showcase of the funniest local and national comedians delivering their new material for your laughter. The show is guaranteed to make you laugh and have fun! There will be a full bar available to get cocktails and a limited food menu available all show. We will have drink specials, so make sure you come out and support this great showcase.

COMEDIANS: To sign up to perform on the show, it will start at 3:00pm. It will be a random drawing for the limited spots available. New comedians will get 3 minutes each and approved veteran comedians will get 5 minutes of stage time.

BUILD-A-BIT: If the comedians want to work on their new material prior to the open mic, we will have our standup comedy workshop starting at 3:00pm and will run until the 4:00pm open mic start time.