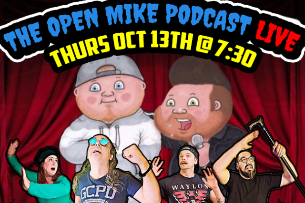 The Open Mike Podcast LIVE
You missed it! This show has passed.
MIKEY B 's Bio
Mikey B. got his start in the DFW scene, but quickly established himself in comedy clubs nationwide. His unique and often brash point of view keeps him busy creating new content and material. He can host, feature, or headline anywhere, but no matter the length of his set you'll crave more. Though his show can lean towards dirty, it's refreshingly honest and will absolutely clean-up on laughter. He has worked with countless big names such as Paul Virzi, Josh Wolf, Steve Byrne, Sam Morrill, Stavros Halkias, Ben Gleib, and Tim Dillon to name a few. You can see Mikey B on season 2 of Queen Of The South on Netflix. He is also the host and co-creator of the fast rising comedy/crime podcast, The Open Mike Podcast. In fact, his podcast has gained enough traction to justify taking it on the road! (Live shows coming soon.) Get your eyes and ears tuned into Mikey B! Once you're exposed to him you're a fan for life, and fortunately there's no cure.
Learn More