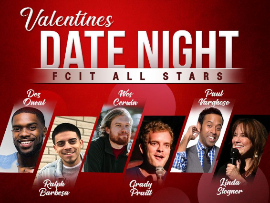 VALENTINE'S DATE NIGHT
You missed it! This show has passed.
Show Info
Dallas' ultimate Valentine's Eve Show arrives! Couples, Singles, Friends, Enemies or rolling solo, come through and LOVE YOURSELF WITH LAUGHTER.

This is a showcase of the Funniest Comedian in Texas "Winners" for the last 11 years. All of the comedians on this show have won their perspective years competitions. They beat out over 500+ comedians from all over state to earn the title "Funniest Comic in Texas". These are literally the "BEST OF THE BEST" Funniest Comedians in Texas.
AMAZING SHOW, DON'T MISS OUT!
Dez Oneal (Won FCiT in 2016)
Wes Corwin (Won FCiT in 2018)
Ralph Barbosa (Won FCiT in 2019)
Grady Pruit (Won FCiT in 2017)
Paul Varghese (Won FCiT in 2009)
Linda Stogner (Won FCiT in 2012)