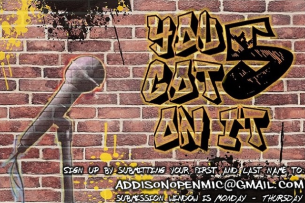 You Got 5 On It
You missed it! This show has passed.
Show Info
Masks are required to enter the showroom, and we have temperature checks at the door.

You Got 5 On It!
A show like America's Got Talent and Last Comic Standing.
Featuring people from Comedy Central, BET, down the street, but mostly from your break room at work.
Are you funny or do you know someone who's funny?
Come perform where the pros do!
Showcase your talent at the Addison Improv!
Every Sunday 3pm, doors at 2:30pm
The submission window will be Monday through Thursday
Any submissions outside of the window will not be considered.

The final list will be posted every Friday, and the link to the list will be given upon submission.
We look forward to seeing you there!
For address and directions
click here.