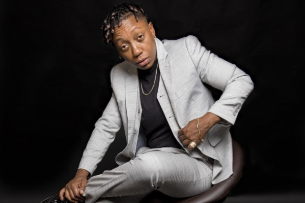 A Night at the Improv with Keisha Hunt
You missed it! This show has passed.
Show Info
Keisha Hunt was born and raised in Houston's mercilessly tough north side. Nothing came easy for this petite stand-up powerhouse; that is, until she tapped into a well of talent that overflowed with comic brilliance. She, in, 2018 was featured in OUT SMART MAGAZINE and in 2013 announced the winner of "Stand Up its Miller Time" competition (now mention alongside previous winners such as Bernie Mac and Cedric the Entertainer) and featured in December 2013 / January 2014 issue of Complex Magazine. Keisha also has been featured on the 2014 season of "Laff Mobbs We Got Next" which airs on the Aspire Channel, a Magic Johnson Network.

Whether it's on you're Keisha Hunt Pandora Station, Satellite ;the Foxxhole, or in front of a sold out audience at Houston's renowned Improv or her captivating television appearances on "Whos Got Jokes" (she was a semifinalist), "Last Comic Standing" season 6 or BET's Comic Viewakeisha was also featured on Hulu's Uncontrolled Comedy.

Keisha effortlessly spins her well-crafted tales of real life. Her talent has elevated her to the top of the pack on "Jamie Foxx Presents: America's Funniest Comics" Vol.4 (On DVD) and Netflix:where she was the new face winner of Laffapalooza. Keisha has toured with "Nephew Tommy" of the Steve Harvey Morning Show in the "3 Lady's and a Tommy Tour" and"NBC's Stand-Up for Diversity Showcase " where she was a finalist. One of her most fulfilling accomplishments was with MWR Comedy Rok Tour where she was invited to entertain US troops based in Korea, Saudi Arabia, Africa, Japan and Iraq.

Keisha Hunt has shown an innate ability to mesmerize audiences for 15 years now, and fans across the nation lose themselves in her raw emotion. Keisha's material is so wickedly funny, she transforms into your deepest guilty pleasure right before your eyes!