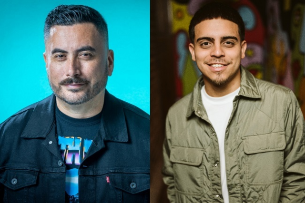 Alfred Robles & Ralph Barbosa
You missed it! This show has passed.
Show Info
Alfred Robles
After getting kicked out of the police academy, Alfred Robles rose to become one of the hottest young comedians in the country -- and nobody is safe from Alfred's good-humored teasing. Two years into his comedy career, Alfred was featured in the hit show "Loco Comedy Jam" and the Latino Laugh Festival. Alfred was featured on the Comedy Central Live Fluffy Shop tour where he opened for Gabriel Iglesias from 2010-2011. He was featured on Comedy Central's "Gabriel Iglesias Presents Stand-Up Revolution" series in Fall of 2011. He is currently on the road with Gabriel Iglesias on the "Stand-Up Revolution Tour."

Martin Moreno's comedy career didn't begin until he was in his early 30's and by that time he had a freakishly funny point of view of his life. His two failed marriages gave him an alternative and hysterical definition of "soul mates." Moreno's comedy touches on his personal life and insecurities resulting in a funny intelligent analytical view of how growing up in the 80's molded him to be the carefree nonchalant and laid back adult he is today.

Ralph Barbosa
One of the shyest attention hogs to ever do comedy, Barbosa's lay back style combined with sharp timing makes for a hilarious comedy set. From his Don't Tell Comedy Set reaching over a million views on YouTube to making his HBO debut in 2022, Barbosa loves hitting stages all over. As a young comic starting out he was the 2019 winner of the Funniest comic in Tx competition, then 2021 went on to win the New York Latino Film Festival Stand Up competition. Short, shy, and goody, Barbosa's only goal is to get laughs so don't miss a chance to see him on stage.