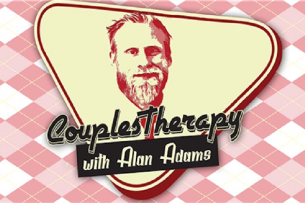 Couples Therapy Comedy Retreat with Alan Adams
You missed it! This show has passed.
Show Info
Looking to break the monotonous date night routine of dinner and a movie? Check out Couple's Therapy Comedy Show at the Houston Improv and come ready to participate! In addition to five hilarious stand up acts, the audience will have an opportunity to ask the comedians relationship advice during a unique and sidesplitting Q&A session (Advice to be taken at your own risk). Club favorite, Alan Adams, will host the panel after delivering his views on relationships with quick-fire wit, stone face delivery, and sarcastically venomous punch-lines. It will leave you breathless. Reserve your tickets today at Houston Improv. See you there!

Alan Adams is the funniest dad on Earth, where his scathing and witty conservatively Texas outlook is a breath of fresh air in comedy. Host of our Couples Therapy Comedy shows, he is a comic you don't want to miss. Alan has toured with Bob Saget, featured for Patrice O'Neal and shared the stage with some of your favorite comedians. Whether you lean to the right or left, this show will have you leaning back with laughter!