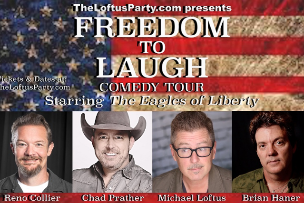 Freedom to Laugh Tour
You missed it! This show has passed.
Show Info
Everyone likes to say there are no funny conservatives - as if conservatives are incapable of humor.

Freedom to Laugh Tour, presented by The Loftus Party, is here to change all that – once and for all. With a cast of incredibly talented performers who bring years of experience to the stage – this show is undeniably funny.

Chad Prather has been described as "the modern-day Will Rogers". He is a comedian, armchair philosopher, musician, and observational humorist. His social media viral videos are measured in the hundreds of millions. He has made numerous appearances on Fox News, CNN, A&E, and The Blaze.

Reno Collier is a national headlining comedian who has appeared numerous times on Comedy Central. He was one of the stars of "The Blue-Collar Comedy Tour: The Next Generation. He also toured nationally with Larry The Cable Guy, Jeff Foxworthy and Bill Engvall.

Michael Loftus is a nationally known headliner who has starred in his own shows on Comedy Central and The History Channel. As a seasoned comedy writer, his credits include hit shows like "George Lopez" and "Anger Management" with Charlie Sheen. His frequent appearances on Fox News make him a favorite of right-leaning audiences.

Brian Haner is a world-class musician turned comedian. He has appeared on Showtime, Comedy Central and AXS TV. He toured the planet as "Guitar Guy" with "The Jeff Dunham Show before becoming a nationally touring headliner.

Freedom to Laugh Tour is a pro-America, pro-small government, and pro-family values. It's not dirty or crude. Just flat-out funny!