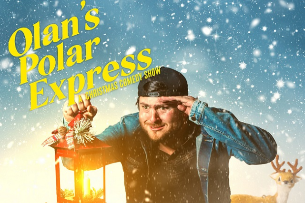 Olan Rogers: Olan's Polar Express
You missed it! This show has passed.
Olan Rogers' Bio
Olan has been called a relentlessly unconventional storyteller who has been making millions laugh for over a decade. The Tennessee Wonder Child first popped onto the scene with the cult phenomenon sketch comedy group "Balloonshop" and then transitioned to a solo career where he slowly built a passionate following of millions through his wildly funny stories. In 2018 Olan went on to perform his first solo live tour which sold out in under five hours. In 2019 Olan would go on to create the cult classic and international hit animated show "Final Space". He currently is developing many TV shows and features in Los Angeles and every once and a while he'll pop in to perform a few live shows.
Learn More