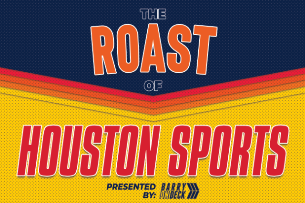 The Roast of Houston Sports
You missed it! This show has passed.
Show Info
HEADS UP HOUSTON SPORTS AND COMEDY FANS!

APRIL 5th at the HOUSTON IMPROV, 4 GREAT comics (and some very special guests) UNMERCIFULLY ROAST all your favorite Houston teams.
No team, player, coach, mascot, owner, GM, or cheerleader is off limits, even the water boy can get it.

The Roast of Houston Sports goes down April 5th at the Houston Improv.
Hurry and get tickets before they are gone!

About your Roast Master, Barry Laminack:

Barry spent 7 years on ESPN radio here in Houston, 3 of those co-hosting the wildly popular show "The Usual Suspect". He also spent 3 years on the popular TV show "Houston Sports Show". When he's not touring the country doing stand-up comedy, he spends his weekdays hosting his own sports & entertainment show "Barry On Deck" on Twitch, which can be seen LIVE every Mon - Thu from 2-5pm.