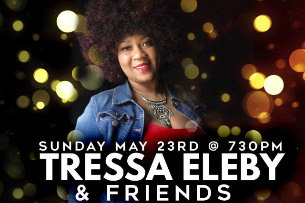 Tressa Eleby and Friends
You missed it! This show has passed.
Tressa Eleby's Bio
TRESSA ELEBY - HOST/PRODUCER AS SEEN ON OWN - "READY TO LOVE' Born and raised in Chicago, IL and now a resident of Houston, TX where she started stand up in 2014. Her unique style of witty, intelligent, and funny take on life being a 40 something , single, Vegan combined with making fun of musical LYRICS , dating, and work life balance has made Tressa one of the hottest comics to watch for. Tressa is currently casted on Season 4 of Ready to Love on the OWN Network premiering 4/2/21. She is the host and Co- Producer of Lady Bits, Houston's longest running monthly all female stand up showcase in Houston's history since September 2018 and Time To Shine Showcases. Tressa has featured for Mario Tory, Tony Roberts , Mike Bonner, Melanie Comarcho, Rudy Rush, Ms. Pat, Taneisha Rice aka "Just Nesh" all seen on Comedy Central, HBO and Def Comedy Jam. She also opened for Dolce Sloan in the Come and Take It Festival, 2019 in Houston, TX.
Learn More