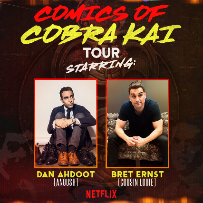 Comics of Cobra Kai - Dan Ahdoot & Bret Ernst
You missed it! This show has passed.
Show Info
Dan Ahdoot (Anoush) -
Dan Ahdoot is a standup comic, actor, writer and producer based out of New York City and Los Angeles. You can see him on Neflix' Cobra Kai as Anoush, and also on the new Kevin James Neflix sitcom, The Crew. Dan is a frequent guest on The Tonight Show, and has been seen on NBC's Bajillion Dollar Propertie$, Showtime's Shameless, Comedy Central's Workaholics and Disney's Kickin' It. He's also the host of the #1 food podcast in the country, Green Eggs and Dan.

Bret Ernst (Cousin Louie) -
Bret can currently be seen playing Louie LaRusso in the hit series Cobra Kai, and is regarded as one of the best stand-ups in the business by his peers. He was recently listed as TOP 5 comedians working today by www.standupcomedyreview.com and "#16 of the 101 Funniest Comedians Working Today" by heckler.com and TBS. He first gained national notoriety as one of the stars of the movie "Vince Vaughn's Wild West Comedy Show," and his "Comedy Central Presents" was voted #5 on the networks "Stand-Up Showdown" the same year it aired. More recently, his 2nd performance on Comedy Central's "This Is Not Happening," premiered March 2, 2018. in 2014, his self released comedy album "American Comic" debuted on the I-Tunes Top 10, and his hour Special "Principal's Office" can now be seen at www.bretcomedy.com. Deciding to control the distribution and content, Bret released his special for free to the public in JULY 2018, and currently has over 3 million views and counting.