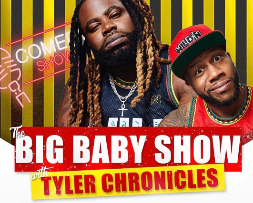 The Big Baby Show with Tyler Chronicles
You missed it! This show has passed.
Show Info
Darren Brand, affectionately known as 'Big Baby', is a decorated comedian, actor, and all around entertainer with roots stemming deep in the Carolinas. Born in Southern Pines, Brand ventured 80 miles north of his hometown to attend North Carolina A&T State University where he quickly established himself as the 'funny man on campus'. His career in stand-up began during college when he co-founded the Freestyle Funny Comedy Show (FFCS), a nationally recognized live improv tour, with his comedic comrades: Anthony Bean (Chico Bean), Brian McLaughlin (BDaht) and DeMar Rankin, Sr. (OsamaBinDrankin).

Big Baby continues to create a household name for himself by spreading laughter and joy to fans across the country and throughout the globe. After graduating from A&T, Brand went on to pursue his dreams of bringing his talents to the television screen. A series of successful auditions and callbacks led Brand to his calling; landing a coveted position on MTV's hit series 'Wild'N Out' for six seasons (and counting!)

The self-proclaimed 'Energy God' has utilized his platform to open doors for many industry opportunities to follow including writing as a TRL contributor, hosting at the BET (pre- and Social) Awards and more. Brand secured his first national commercial project with McDonalds in 2018 and is currently starring in two MTV digital content series Basic to Bougie with Wild'N Out co-stars Timothy Delaghetto and Justina Valentine, as well as Next Big Dance Move featuring fellow judges funnyman Emmanuel Hudson and choreographer Dana Alexa .

Tyler Chronicles was born in Inglewood, CA and immediately knew he was here to make people laugh, but chose to pursue his first love of basketball. Basketball lead him to receiving a BA in Communications and an MBA in Managerial Economics. Learning quickly that the corporate world would not be satisfactory he decided to audition for an Improv Group (Snack Pack Comedy). Shortly after joining the crew he ventured out to do Stand-Up, and has been on stages ever since. He is most known for his off the top freestyling flow of comedy and hosting events from Comedy Shows, Family Reunions, Corporate Events and even Athletic Events.



Tyler has opened for comedians such as Cedric The Entertainer, Rodney Perry, Joe Torry and a host of others. He has written for networks such as BET, MTV, Tru TV, Bounce TV, and VH1. When Tyler is not filming or writing for shows you can catch him touring the country changing lives one laugh at a time. Tyler was recently selected as one of the most talked about comedians by Comedy Hype. Make sure you tune in to WE TV'S Bossip on Thursday nights where Tyler is a lead cast member. You can also catch him on MTV's Wild N Out with the one and only Nick Cannon and his Hilarious cast. Be sure to keep an eye on Tyler because he is sure to invade your airwaves more this year and beyond!