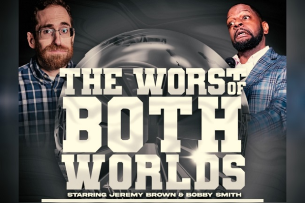 The Worst of Both Worlds
You missed it! This show has passed.
Show Info
About the Show:
Two comedians with very different backgrounds join together for a comedy tour bringing versatile, quick witted comedy with hilarious detailed characters and great stories.

About Bobby:
Bobby Smith IV aka B Smitty is one of San Antonio's premiere comedians and Co-Owner of San Antonio's First Black Owned Comedy Club. (Only 7 in the nation) He has experienced the ups and downs of a comedian and business owner and uses each experience as a way to teach through humor. Bobby feels Simple is more especially when it comes to Comedy. With his detailed characters, pinpoint delivery and unpredictable punchlines, his shows take you on a unique, yet hilarious journey of people, places and life. Bobby's unique style of humor is appealing to ALL AUDIENCES.

About Jeremy:
Ohio born and San Antonio based, Jeremy Brown grew up as an awkward kid and decided to lean in. After becoming the coolest kid at the public library, he eventually became an English teacher. No longer in education, Jeremy now reflects on the oddities of teaching along with his awkward childhood and things that just don't make sense to him about society. He's performed in multiple countries and around the U.S. and has opened for Tone Bell, Ian Bagg and Steve Trevino among others.