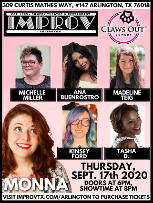 Claws Out Comedy feat MONNA & Friends
You missed it! This show has passed.
Show Info
An obvious only child, MONNA is a quick witted stand up comedian with her roots in Fort Wayne, IN and is currently based out of Fort Worth, TX.

MONNA balances her dark sense of humor with nuanced wordplay and silver linings as she delves into sensitive subjects- ranging from romantic relationships to the daily struggles of living with a mental illness (bipolar disorder).

Over the years, MONNA has worked with many widely respected comedians including Theo Von, Dan Cummins and Eddie Pepitone. She is the owner/producer of "Claws Out Comedy", a brand created to showcase and elevate female/femme performers, host of the Claws Out Comedy podcast and is on the board for "Vulgarity for Charity" a charitable organization which provides assistance to individuals who have been left behind by loved ones who have committed suicide.