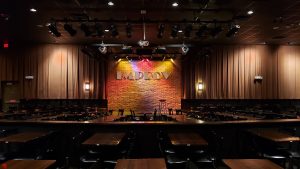 Arlington Improv/Black Dog Retro Arcade
309 Curtis Mathes Way #147, Arlington, TX 76018 (
Map
)
The Arlington Improv offers an intimate dinner theater -style venue for some of the world's most popular entertainers and corporate entities.
Whether it's a corporate, private, wedding or live event, we have all of the essentials to suit your needs.
Including specialized cocktails from our house mixologist, customized dinner menus and outside catering.
Centrally located inside the Arlington Highlands on i20 Freeway, this beautiful venue features our legendary stage, state of the art audio/visual capability, full bar/kitchen staff, dance floor, and in-house audio engineer.
Contact
More Info
Plan your event
Thank you for your submission. A representative will call you as soon as possible. Your business is appreciated very much.