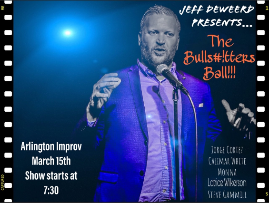 Jeff Deweerd
You missed it! This show has passed.
Show Info
Jeff Deweerd is a comedian based out of Fort Worth, Texas. Originally from Dallas, Jeff has lived all over the globe in his 10 years as a US Army Paratrooper. Now that he's out, there's no stopping him! He is energetic and full of stories, this a comic that you don't want to miss!!

And now, he's put together a series of shows that will be held at the Arlington Improv called "The Bulls#!tters Ball", with lineups from the absolute best comedians in Dallas/Fort Worth!!! Don't miss your chance to see this show!!