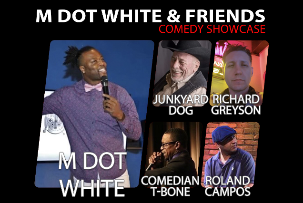 M DOT WHITE & FRIENDS
You missed it! This show has passed.
M DOT WHITE's Bio
It's not surprising that DFW houses incredibly talented local stand-up comedians from all kinds of backgrounds that have gone on to be featured in films, television, comedy festivals and more. Come join us on as we feature our extremely talented friends on one all-star showcase that you've seen feature for your favorite comedians and highlight their voices on our world-famous Arlington Improv stage for one night only, where you might see a special guest pop-in. You may have seen some of these comics on Comedy Central, BET, Amazon Prime, and mostly down the street. Come party with us!
Learn More