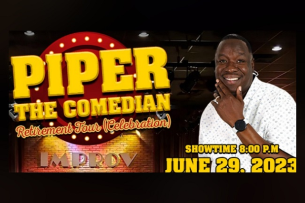 Piper the Comedian
You missed it! This show has passed.
Show Info
When Piper the Comedian asks, "Won't He do it", the comic's signature inquiry invites an enthusiastic "If you let Him!" from crowds who flock to his performances. For Piper, the mantra is not just a catch phrase ripped from the pulpit; it is the inspiration behind the charming gregarious style that keeps loyal fans coming back.

Born in Baton Rouge, Louisiana, Gerald Piper is a decorated Navy veteran who always respected the art of comedy. However, after sharing the stage with comic legend Bernie Mac, he realized making people laugh was his calling. Mac, who later became a personal friend, helped Piper hone his innate skills.

The humorist with the smooth baritone voice always had sharp comedic timing. Piper (inspired by his mother's spontaneous sense of humor) mastered the art of storytelling early in life, often entertaining co-workers and family members with lively narratives spun from common everyday experiences. His gift? Finding the punch line in the ordinary, the joke in the absurd, and the humor in the pain. It is a command of life few can claim; an artistic acuity that comes from an amusing perspective on relationships and the dynamic between family members, friends and encounters with strangers on the street.

Piper the Comedian's style is best described as rich Southern charm infused with blunt, quick-witted observational humor. Armed with a keen intellect, one of his greatest strengths is the ability to take the pulse of his audience and deliver his unique brand of humor accordingly. Whether he is headlining the comedy clubs or performing before sold-out crowds in venues and on board cruise ships across the country, versatility ensures Piper's material is not limited to mature audiences. A family man with a big heart, Piper appeals to a broad range of comedy lovers. From politics to entertainment, marriage to funerals, fatherhood to dating, Baton Rouge to Brooklyn, New York, there is something for everyone. For Piper it is all fair game. For those lucky enough to see him take a stage, it is comedy gold.
Piper made his acting debut in the 2015 film Paradise House. The actor/comedian recently inked a deal to co-star in the highly anticipated movie Free Fall, which is currently in production.

Piper the Comedian now lives in Arlington, Texas with his daughter.