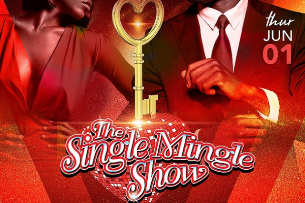 The Single Mingle Show
You missed it! This show has passed.
Single Mingle 's Bio
The Single Mingle Show is an interactive Singles Event. It's the Game Show for Singles. Where Single Stuff Happens and Love begins. The real Prize is finding true Love. Singles can come out meet mingle and be single without any pressure to meet someone because everyone is meeting a mingling naturally. Unlike other single events where it up to the singles to all the work with meeting someone. We take all that away by the key to my heart competition. Find the key to your heart and let the games began. The Program consists of three parts Dating Games, Comedy Show and a Talk Show. All three of the programs are centered around being single and loving life. Partnering up with Loversandlove.com. The Single Mingle Show is always an experience you want forget. The Show is hosted by the Amazing Love Whisper Canada Love. He has spent the last 3000 years in the Mountains of Louisiana studying the Art of Matching making from the "Long Lost Deep Sea Scrolls" of no drama from your Baby Momma. He's a man of many talent with just one look he can match people up with there forever partner. If you don't believe so come out to the next show and see for yourself.
Learn More